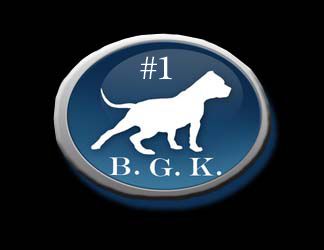 7-4 2012 Big Gemni Kennels is announcing it's new website. More photos will be on our site soon. There is a lot of work to do to fill in these pages and bring everyone up to speed with our current breedings, productions, philosiphies, allies and enemies, lol. I plan on using this portion of the site as my breeders blog to document everything that id going on with our breeding program and share my thoughts with fellow XL Bully pitbull lovers as well. Let's start with a formal introduction. My name is Andre and all of my friends call me Dre. I am a professional breeder of some of the largest top quality XL Bully blue pitbulls that you will find on the earth.
Date: 7-18-2012
Working on this new BGK Pit bull website is a pain in the damn ass!!!!! I did not know that it would take this damn long. I guess when you have been breeding top quality XL Bully pitbulls for seven years it takes a while to pour thant information into the new improved website. (At least this site will be ipad/iphone friendly). It will be one of the best websites put together for our breed when it is finished, but for right now it is my problem child, lol. I have gotten so many emails, calls, texts, and facebook messages asking what is going on with the site......I"M ON TOP OF IT PEOPLE!!! I just hope you appreciate the effort I put into it when it is completed. :) I also plan on doing a kids-n-pits video for youtube and my website. The kids-n-pits gallery page I just completed is the bomb!! Take a look. http://biggeminikennels.com/kids-n-pits.php
Date: -8/5/2012
Big Gemni Kennels is announcing that the site will be finished this weekend and I just completed the XL Bully pitbull breeding that will make some serious noise in the bully world in the future. BGK's The Rock X Silent. Silent is from Razor Edge/ Gotti blood and about as bully as a pitbull can get. COmbining her with rocks proven production power will make a serious impact on the XL Bully world in my humble opinon. Rocks first XL bully breeding with Xtreme Bully's Icon daughter MVP's Diva turned out incredible......Please be prepared :) I also repeated the breeding that created BGK's CUJO and BIG SEXY: Rock X Jewelz for Jewelz final breeding ever. I had to try one more time.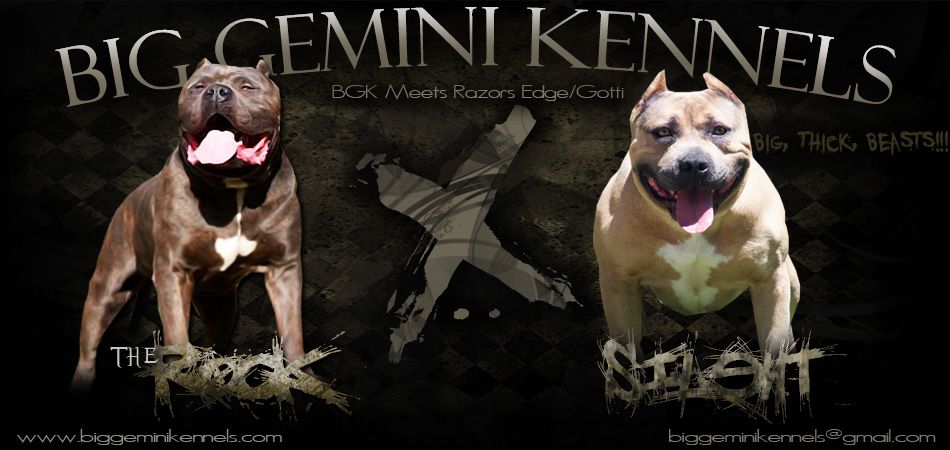 Date: 8/8/2012
A lot of people do not know how to properly identify the different parts of a dog when speaking about the large bully pitbulls that I produce. This post is meant to educate XL bully pitbull lovers about how to properly identify the parts of the dog. Hopefully this helps...........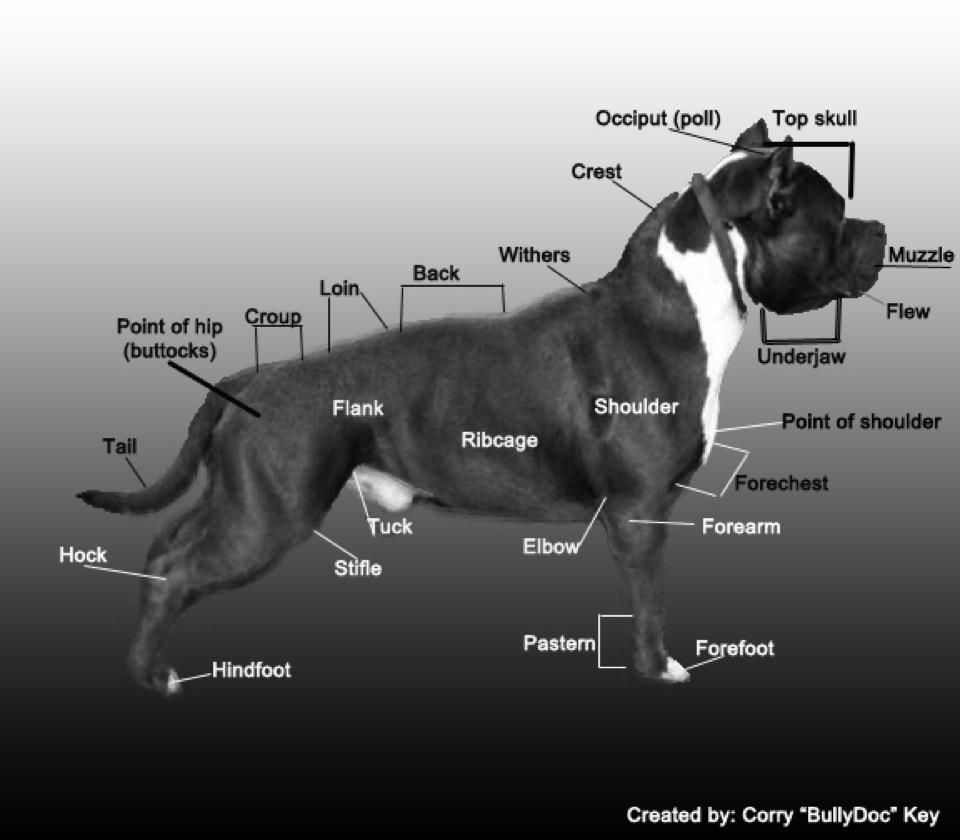 Date: 8/9/2012
There are so many shady scandalous people attached to XL Bully pitbull breeding industry that it is ridiculous. They lie about the size of their pitbulls, hang papers on bully pitbulls, and basically try to rip people off. I pride myself as being one of the good breeders who truly cares abut the breed and his reputation. Beware of Bullyboy Kennels. I bred my main stud BGK's The Rock to his bitch Patches as a favor to this piece of s#$$%. Now he rfuses to pay the stud fee and is hiding the puppies so that he can hang papers on them. I have been told by multiple people that ELijah fromJersey Iron Pitbulls has one of the ZRock puppies from that litter. The puppy that BullyBoy Kennels kept from the litter is fawn and looks like BGK's Viper but has a little more white on its had. Also albama Iron drug addicted owner is breeding is dog Moron who has had multiple surgeries because of bad hips and bad back legs, I mean the dog cannot even walk properly or run, but he is breeding this piece of crap just because he is BIG................I am losing faith in most of my fellow breeders they are back stabbing idiots with no ethics, morals, credibility, or vision!!!! SOrry for the venting, but BGK will always stay at the top and provide top quality XXL Bully pitbulls for the world. Let the scumbags expose themselves and eventually fade away........
Date: 8/29/2012
Date: 8/9/2012
Thanks to a good Facebook Friend for creating this bad ass custom BGK banner fo our website. It is greatly appreciated :)