www.instagram.com/LargestPitbulls
@largestPitbulls
If you really Want to know what is going on with Big Gemini Kennels on a daily basis We post DAILY UPDATES
on INSTAGRAM!!! FOLLOW US TODAY!!!
JUST CLICK THE INSTAGRAM LOGO BELOW TO FOLLOW US For your daily dose of the largest blue Bully pitbulls for sale in the world!!!

CLICK THE ICONS BELOW TO ADD BGK ON YOUTUBE/ FACEBOOK/ TWITTER/ INSTAGRAM
CLICK THE ICONS ABOVE TO ADD BGK ON FACEBOOK/ INSTAGRAM!
our instagram: @largestpitbulls
KIDS N PITS
BGK BLOODLINE: KID TESTED, MOTHER APPROVED!!!!
Don't let the mainstream media fool you with negative
images/ stories about our noble breed. I have been breeding
for 7 years and NEVER had one of my dogs or their offspring
hurt their owner or loved ones. They have bit humans ONLY when protecting
their family but, that is to be expected as they are awesome guardians!
Most pitbull attacks are due to irresponsible owners. Please
watch the video below.........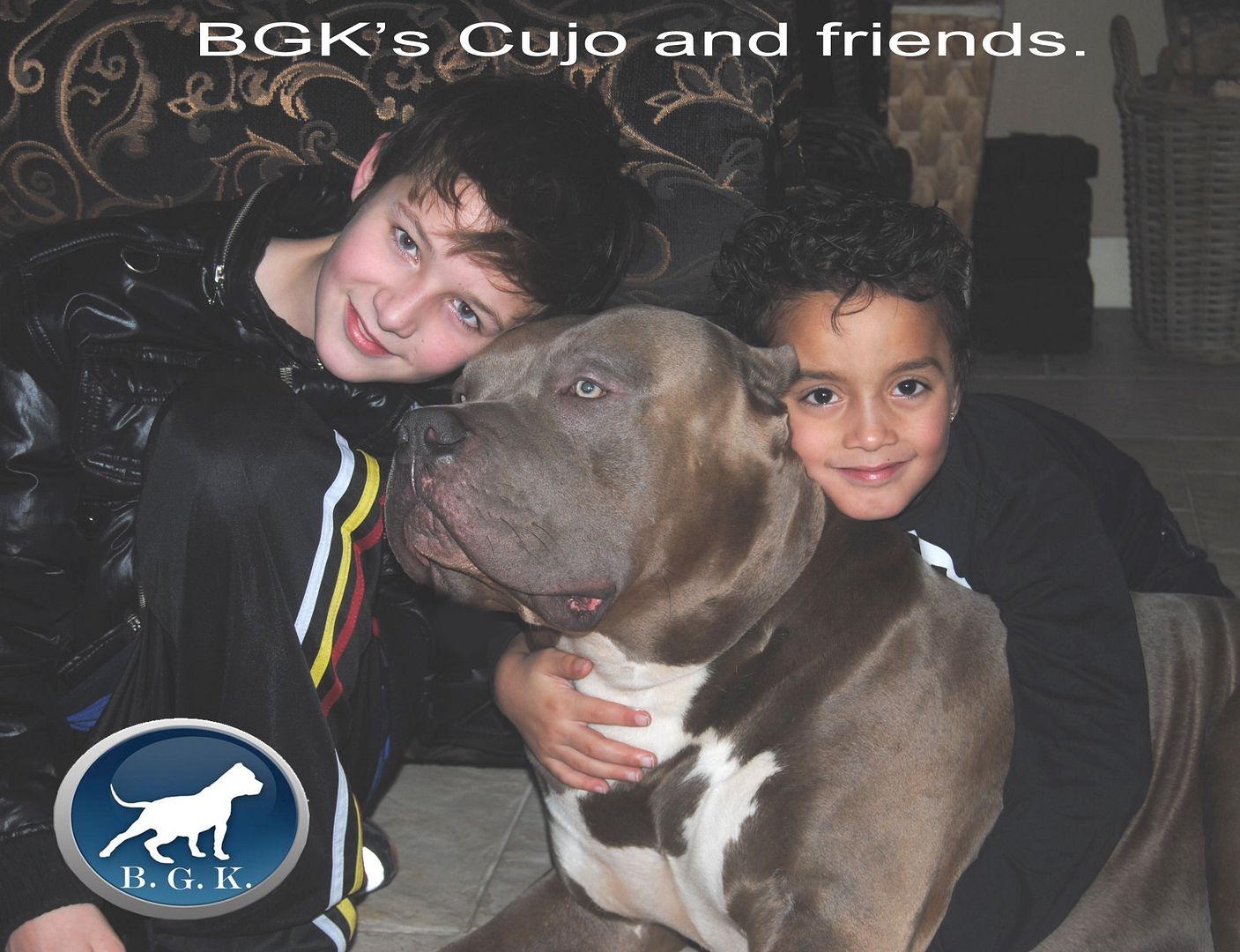 The "Nanny Dog"
True Pitbull History: Do your research people!!
In the early part of the 1900's, the Pit Bull breed was known as the "Nanny Dog". Why, you ask? If you wanted to keep your children safe, the Pit Bull was the most faithful and loving dog of any breed, especially with children. They are strong and loyal and love children. If your child had a Pit Bull dog as a pet back then, you felt that they were safe. Nothing has changed about this loyal loving breed other than the sick sadisitic retarded owners that have exploited the breed for fighting, etc. If you know a dog fighter please immediately report them. The media loves to report anything negative about the Pitbull breed, so our job is to expose them as the beautilful loyal guardians that I know them to be. Feel free to send in any Kids and Pits pictures that you may have, and I will add it to the gallery. Thanks for looking and spread the good word about these loving BEASTS!!!!
For generations if you had children and wanted to keep them safe you wanted a Pit Bull, the dog that was the most reliable of any breed with children or adults.
The Nanny Dog is now vilified by a media that always wants a demon dog breed to frighten people and LHASA-APSO BITES MAN just doesn't sell papers. Before Pit Bulls it was Rottweilers, before Rottweilers it was Dobermans, and before them German Shepherds. Each breed in it's order were deemed too vicious and unpredictable to be around people. Each time people wanted laws to ban them. It is breathtakingly ironic that the spotlight has turned on the breed once the symbol of our country and our national babysitter.
In temperance tests (the equivalent of how many times your kid can poke your dog in the eye before it bites him) of all breeds the most tolerant was the Golden Retriever. The second most tolerant was the Pit Bull.
Pit Bull's jaws do not lock, they do not have the most powerful bite among dogs (Rottweilers have that honor) they are not naturally human aggressive (in fact Pit Bull puppies prefer human company to their mother's two weeks before all other dogs), and they feel as much pain as any other breed (accidentally step on one's toe and you'll see).
The most tolerant, patient, gentle breed of dogs is now embarrassingly portrayed as the most dangerous. It would be funny if the new reputation did not mean 6,000 are put to death every day, by far the highest number of any other breed euthanized.