TESTIMONIALS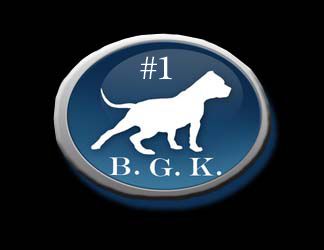 CLICK THE ICONS BELOW TO ADD BGK ON YOUTUBE/ FACEBOOK/ TWITTER/ INSTAGRAM
CLICK THE ICONS ABOVE TO ADD BGK ON FACEBOOK/ INSTAGRAM!
our instagram: @largestpitbulls
THIS IS WHAT OUR CLIENTS HAD TO SAY ABOUT US
and the incredible XL blue bully pitbulls they bought.....
Don't just take our word......scroll down :)
WORLD'S FIRST MICROCHIP WITH GPS Capabilities for pets!
THE BEST GPS PET TRACKER EVER! THE GPS PETS MICROCHIP!!
INSTALL THE GPS Pets Microchip into your pet and track their
exact location and body temperature using your smarth phone and/or tablet
to stay updated about this incredible product. Much more effective and accurate than any GPS dog collar or microchip on the market.
PATENT Pending & Trademarked
watch the video below: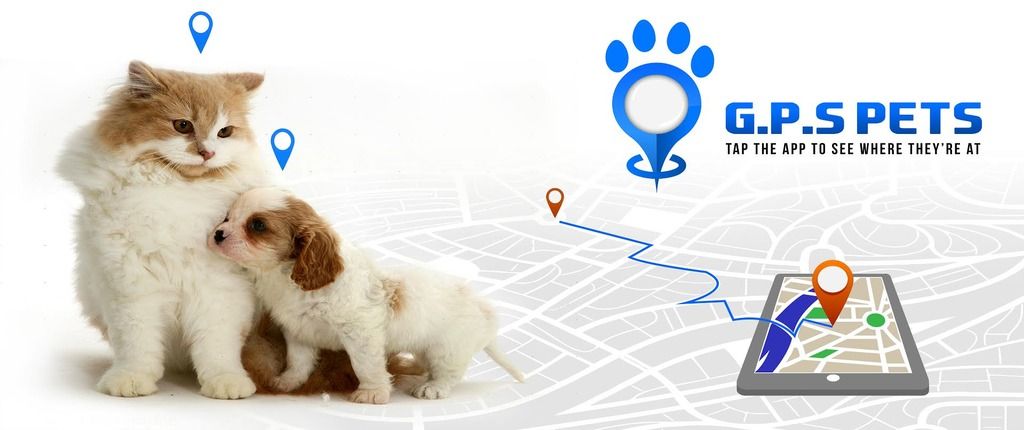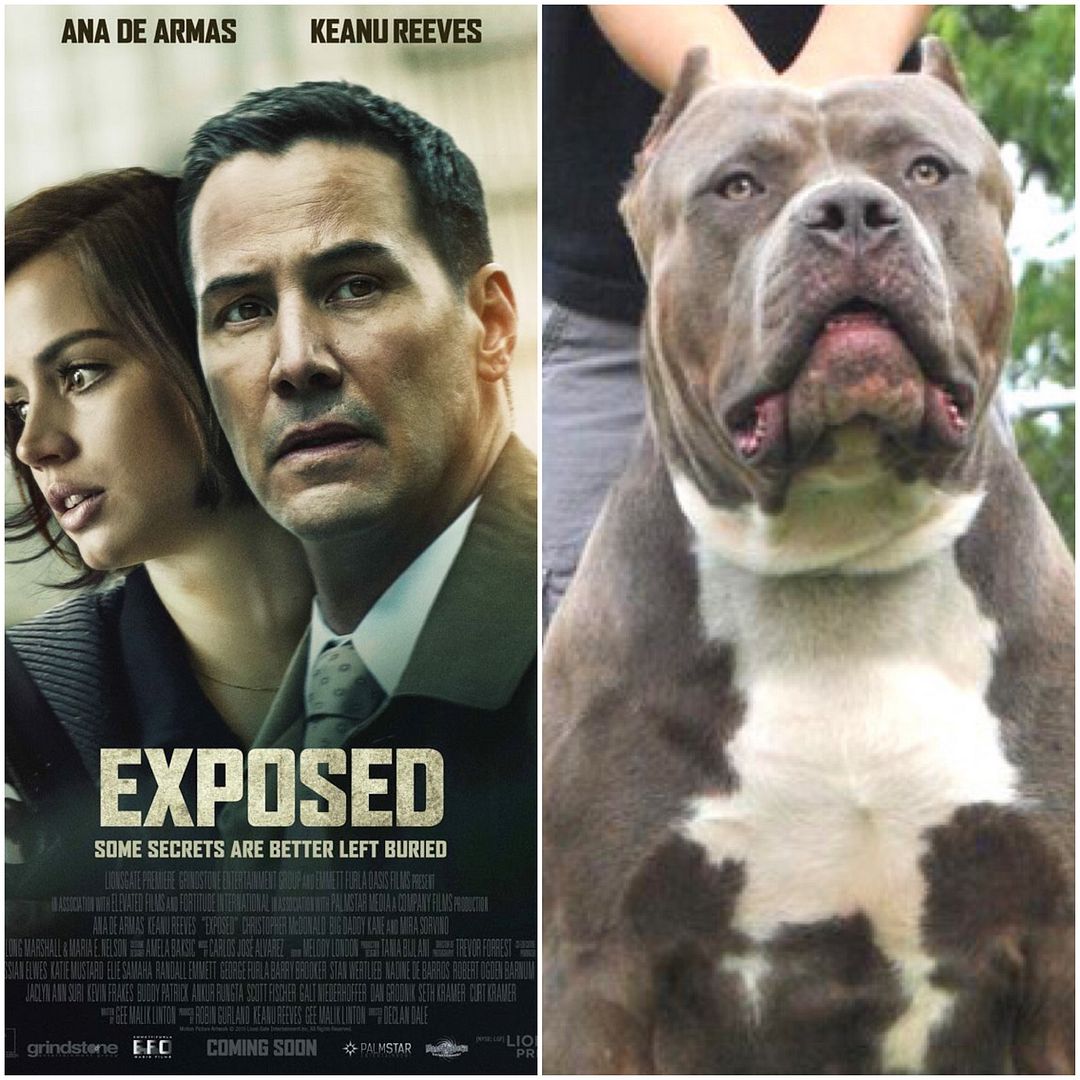 THE BEAST OF A PIT BULL BGK's Tank of Topblue was just featured in a recemt movie starring Keeanu Reeve's called "Exposed" which was just released in Janurary 2016. Great worK Paul! Big Gemini Kennels is proud to see the largest Blue XXL Bully pitbulls on the big screen!! Check the movie out I actually really enjoyed it Myself!! BGk's Tank is a third pick son from BGK's Cujo x BGK's Deja. Don't be so concerned with getting the highest pick when purchasing from a top XL bully pitbull kennel.
===================================================================
====================================================================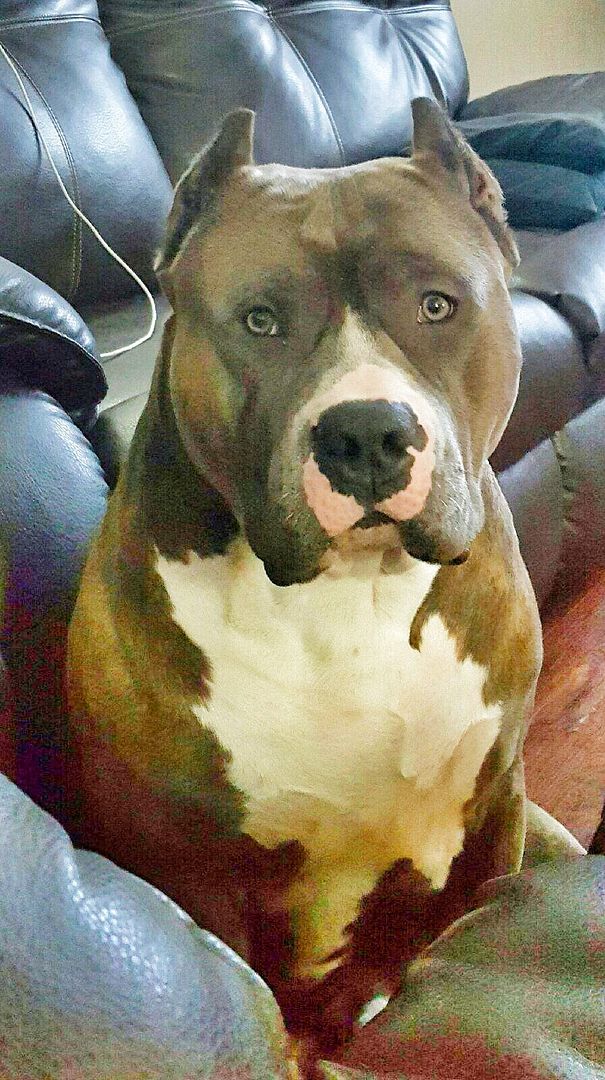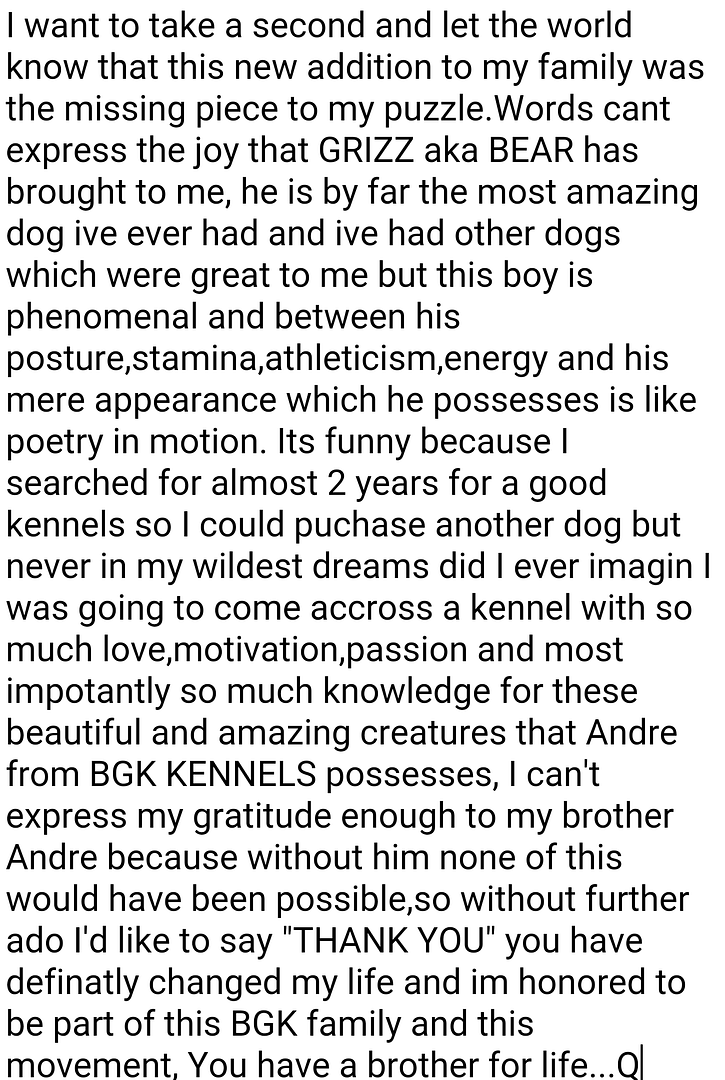 =====================================================================
=====================================================================
"I would like to thank Dre and the whole BGK fam Rock and Cujo because without them this could have never happened. This is BGK's Avatar my 2nd pick Male from BGK's Cujo's First litter. I've never had the opportunity of having a true Beast like this before BGK. I was searching for a stand up Breeder that cared about the customer's satisfaction before trying to stackup on the dollars and save their own face. I had been tricked and conned out of my money by so many shady Breeders in the game. But I can finally say I've got what I payed for, and I am proud to be an BGK customer and very proud to own an BGK Beast. Thanks Dre"
Adrian-
Glenn Coffee of the S.F. 49ers bought 2nd pick male and 2nd pick female off of the Rock X Jewelx litter. Here are his words about his dealings with us, (we appreciate them greatly.)
--------------------------------------------------------
" When I set out to find that perfect dog about a year ago, I had no clue how tedious the process would be. I had owned many APBTs but they were nothing more than your average neighborhood "pit bull". A dog that caused people to stare and point was what I wanted. Size was important but not at the expense of correct structure and athleticism. Every breeder claims to have heat on their yard that no other breeder could match so I dedicated my time to research. I wanted to really understand every possible piece of information about the current dogs and the dogs before them, including their owners. The pup I wanted had to not only have blood with provin history, but had to have half brothers and sisters already making waves on the APBT scene. Long story short I went with Dre.

My pups, 2nd pick male and female were off the Rock-Jewelz breeding. To give some insight on what i got from Dre, here is a quick story.

When my male pup was 6 months and 3 weeks old I had to sadly leave him with dog sitters for a month because of football training. Before I left him, Koopa was growing at an incredible rate and looking like he was pushing iron. I gave them instructions to free feed Koopa, which is to let him eat as much as he wanted (just keep his food bowl full). A month later I came back and saw that free feeding didn't take place. It wasn't the sitters fault, because Koopa had been throwing up all he ate and they didn't have experience with APBTs. They had been
monitoring his feeding and he looked like he had been put on a weight watchers diet. I wanted to know how much he weighed so I could track his progress while I got his weight back where
it needed to be. The day after I picked him up from the sitters we arrived at the vet. Koopa ( 7 months 3 weeks) got on the scale...........100+ POUNDS!!!...............Nough Said!.......

If your looking to leave your mark in the dog game, holla at Dre. If you want a monster in your yard, holla at Dre. Then again maybe you just want a dog your 8 year old lil girl can ride, instead of the plastic pony at k-mart, again holla at Dre. I honestly got everything I was looking for in a APBT and all i can tell u is that Dre and the dogs he has in his yard are LEGIT."

Thanks, Glen Coffee "BGK wants to Than k Glenn Coffee again for his kind words, and wish him and the San Francisco 49ers the best of luck in crushing the competition!"
.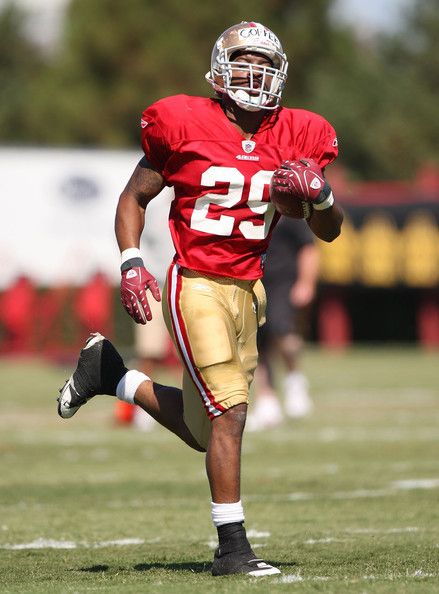 ANTHONY "RUMBLE" JOHNSON of the UFC
"Goon is by far one of the best dogs i could ever have thanks to BGK. Strong, Athletic, and Beautiful and has the best blood of any dog I have.
I Would like to thank Dre of BGK for being a good breeder, good friend, and for this special beast Goon."
Anthony "Rumble" Johnson
UFC PROFESSIONAL FIGHTER
BGK sends out a special thanks to our friend for his kind words. Much love & Keep killing them in the ring fam, you are a magnificent warrior in the ring, and a noble person outside of the ring!!"

Andre
BGK- USA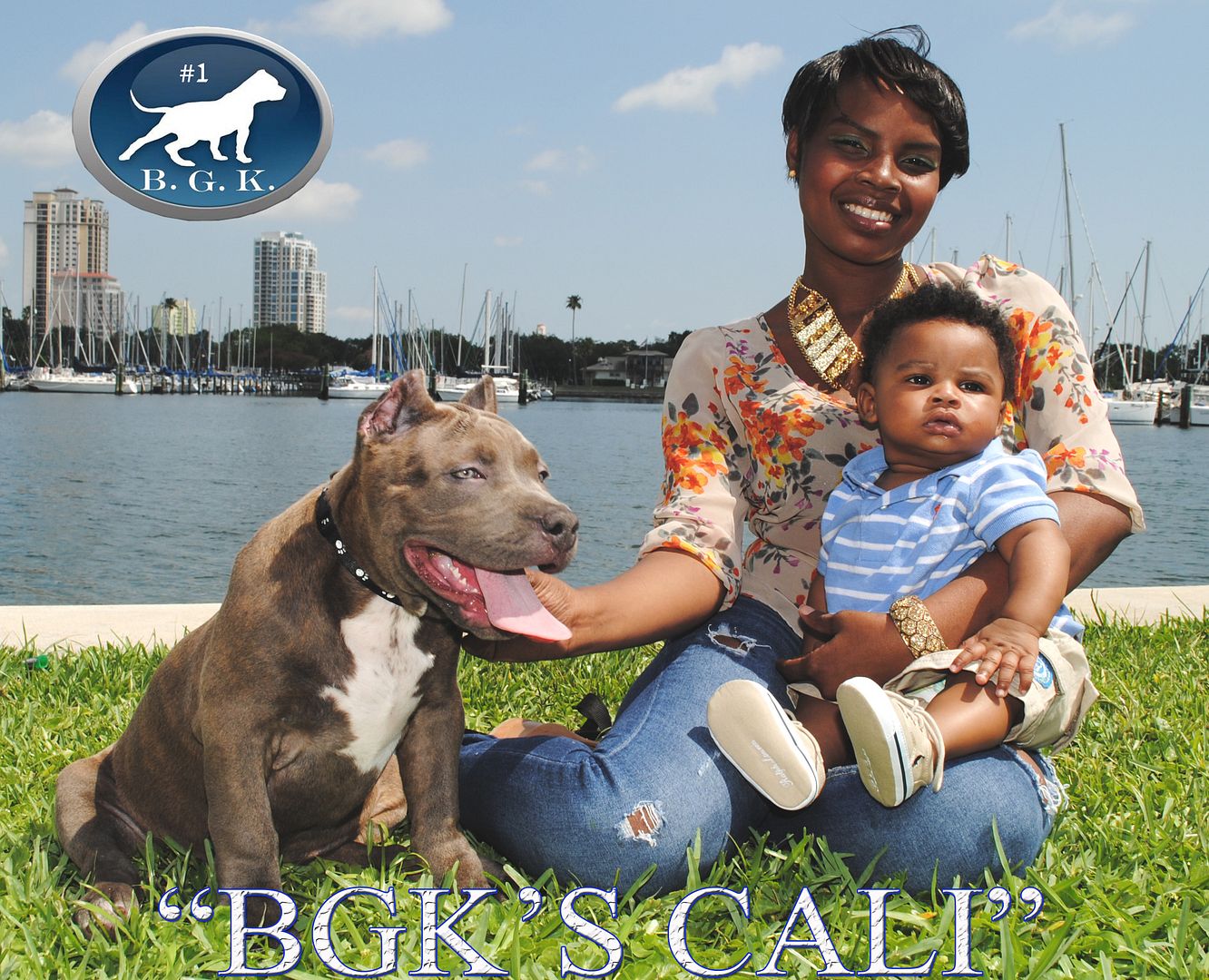 Before I purchased my first pup from Dre I looked at a lot of kennels all over the US. When I ran across BGK site i couldn't believe what i saw. I hadn't seen a dog like "The Rock" and I was an instant fan. I looked around a little more and seen some nice dogs but nothing like what i had seen looking at the BGK site, pictures and videos. It took me a few extra months for me to save for the pup, but i wanted to start my kennel of with the best pups i could find, so I saved and got my first pup from Dre and it was well worth it, When I picked up the pup he was just different, Ive been around pits almost all my life but these dogs are something special and you really have to see them in person to fully understand what I'm talking about. My first pup was 4th pick male off of rock *Karma, there was nothing like him in the city and every where i took him all people would say is WOW!!... People didn't believe his age because he was so big... unfortunately I trusted a local vet to give him an ear crop, and they gave him too much anesthesia and he never made it out of the surgery. My family was devastated because he had become part of the family.. It took us all some time to get over this....
Hearing what had happened to my family Dre reached out to me and help me get my next pup, He told me his staff felt terrible about what happened, and that he still wanted to help me get back on track with another pup.... We examined his upcoming litters and I really was a fan of Arnold the Terminator. I ended up getting 4rth pick off his Arnold daughter Shady Lady. The pups were very nice all of them, you can see for yourself, I'm sure there are pics on the site. Before the pup was due to be shipped to me Dre. had called me and he said he wanted to get the pup checked out before he sent her to me, she might have a slight eye problem and he wanted to make sure I got nice pup with nothing to be passed down side i was thinking of breeding myself, I looked at many pics and video of this pup and I could not tell anything was wrong, the pup had a slight lazy eye but it was not noticeable at all, Dre could have not said anything and just sent me the pup, or had me wait, but what he did is what really sets BGK apart from other kennels in my eyes, He offered me his female that he was keeping for himself! I named her Cali, cause she definitely has her "lil California swag" going on.... I ended up with the top pick female from that litter and when I say what a pup... Pics really don't do this girl justice, your really have to see her, She was just as big as any pup in the whole litter... Everyone is amazed at the size of cali... people really don't believe me when I tell her age... I smile because I know I got a real game changer over here. The quality of pups i have gotten from BGK is second to none, as is the customer service.... Thanks Dre... Its been a pleasure working with Dre and BGK and I look forward to doing more business with BGK in the future. I'm so looking forward to getting my male stud, 2nd pick make off Rock * Couture.... I know he is just going be so fresh and so clean.. lol... I think that's what I'm gonna call him " FRESH".... I can't wait ..... Thanks again Dre..
Thank you to Big Gemini Kennels, for the best biggest pitbull in Europe! He is just puppy but already bigger than other dogs in our country!! We love him so much, my new baby "Big Gemini", He love run and play , and protect our family with his life.



Slavomir Svitana


Slovokia, Europe
Here is BGK's T-Rex as a puppy with his new family.........
Here is BGk's T-Rex now at 150 lbs and not even two years old........
In Indonesia......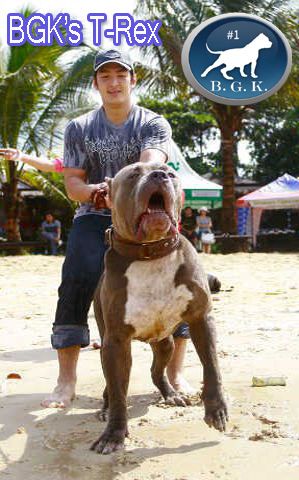 Hi Andre, i just wanna say thanks for helping me found BGK Indonesia. I have an interest with XXXL pitbull and i really like ur dogs. When i saw ghanja for the 1st time, i really like her and when u send me t-rex (male A cujo) I'm really happy since he's a great , with great body and structure. T-rex will make BGK indonesia famous, he's my dream and my greatest Thanks for make it happened.
Also i really appreciate ur trust for making me ur agent here and I'm waiting ur next monsters. BGK Indonesia will be the first kennel to make the monster pit in my country.
Regards,
Andrie - Indonesia.

To people looking to buy the best XXL pitbulls, do not worry about sending the money to BGK, we will make you happy and deliver your dog to you no matter where you are. Much love to our good friend Andrie and BGK Indonesia...... expect big things in the future!! You are a great gentleman that I am glad to have met and connected with. BGK Indonesia is now here!!

Warm Regards,
Andre: BGK USA
I was on a mission for twenty years, it has come to an end now. I spent years dealing with gimma your dollar.com and don't know shit about a pit.net. I had honestly given up when I heard some kids talking about Andre and the beast he is playing ball with. I figured it was another hollywood picture all shit and no bully! I am proud to say I was wrong. I have never been so warmly treated, or felt more like a VIP! Every tiny detail was a joy to do. I am so pleased with my BIG, SEXY, AWESOME PUP!!! He is perfect in every way. He bounced out of his crate at the airport with such confidence and trust that he seemed to have known me forever. That my friends can not be taught in a second it is all in the person that gives them their start in life. So listen up people if you want the very, very best in your pit then get quality where it is at it's finest, BGK is the best at quality where it counts!!!

Theresa :)
when I started looking for a pup I did a lot of research on different dogs and kennels talked to lot of them on the phone. I literally spent months searching the internet and youtube looking for the perfeft bully pitbulls. Andre was the most knowledgable and made me feel the most comfortable plus I liked his dogs the most, after we talked for a while I knew I was going with BGK kennels. I purchased BGK's viper from BGK's The Rock / Diva breeding.. I couldn't thank Andre more for this masterpiece of a pup! He's is the talk of the town any where we go!! beautiful as any pup out with there ,he will be a top stud one day with his sexy and exotic look along with his size structure! Hes also a ladies man The ladies cant walk past with out stopping and loving on him!! Sincerely would like to thank Andre and BGK kennels which now we are close friends ,for making my dreams come true! BGK is thebest bully pitbulls on the planet. Period!!
Thank you
Greg
"BILLY"
When we were ready to get our male, we looked for years all over and at all the top kennels, when we found your site and saw your dogs, we knew we didn't need to look anymore. Billy, out of Big Sexy and Viking, already 131 pounds at 13 months old, is everything we wanted in a pitbull and much much more. He is the real deal, a true xxl pitbull with beauty perfect structure, you were right on with everything that you said, we can't thank you enough for this him!! We are so proud of him, and proud that he came from Big Gemini Kennels. Buying a dog from another state, only seeing pictures, is a tough thing to do and we want to say thank you for your honesty and for coming through for us. We look forward to doing more business with you in the future, and thanks again for our boy!!!
Shane and Sonny Wheeler,
Pit Pen Kennels, Washington


"Big Gemini Kennels greatly appreciates the kind words from Shane and Sonny. We wish you great success with pit pen kennels, you have already done an outstanding job raising this incredible stud!! Let us know if there is anything we can do to assist you in your journery :) We love to see our puppies end up in suych caring capable hands such as yours!!"

Andre'
BGK USA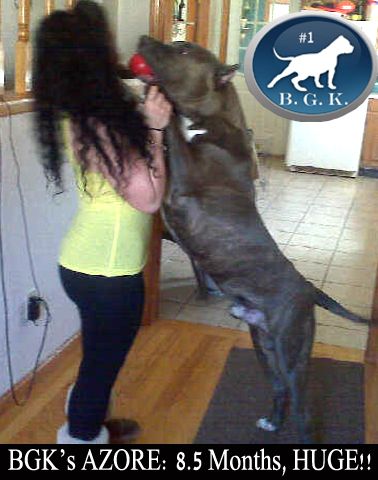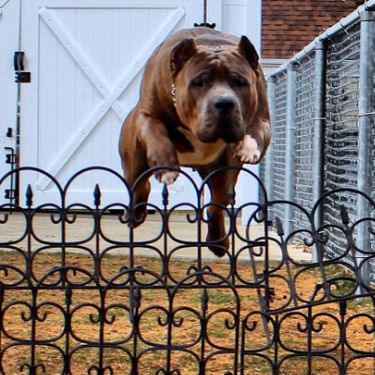 We would like to start out by saying THANK YOU to Dre. We had looked everywhere for the perfect XXL pitbull but still were left wanting more. When we found Big Gemini Kennels we immediately recognized the difference in quality compared to most pitbull kennels. Huge, clean XXL pitbulls with the athleticism, temperament and drive that is synonymous with the breed. We ended up getting a male from the BGK's The Rock x BGK's Karma breeding and he has ended up being even MORE than we expected. Right now BGK's Azore is 167 bs at 20 months!! His size is only a plus, Azore has become the ultimate lap dog and does absolutely everything with us. Everyone that meets him is in awe of his size,intelligence, and disposition. We love showing everyone the positive side of this sadly misunderstood breed. Dre, thank you for being a man of your word and providing us such an amazing animal. You have been more than supportive through the launch of XXL Designer Pitbulls. We are so in love with this dog we had to buy another one.lol We are looking foward to our next BGK production! Thank you again for everything Dre.

Gina and Josh; XXL Designer Pitbulls
Rhode Island
I would like to thank Dre the founder and owner of the Big Gemini Kennels for my awesome pup Big Moe he is a wonderful pup with a great temperament and personitly, looks and he is only 3 1/2 months and 46.9 lbs and still growing. Moe is a 4th pick son out of Cujo and Deja litter and man i cant wait to see how big Moe is going to get his feet and legs are bigger then other older pitbulls and wen i saw him i am like OMG he is big as H$¡¡ man Dre thanks again i got what i been looking for i had other pitts but not like this one. If anyone looking to get a XXXL pitbulls you are in the right place at Big Gemini Kennels...Thanks



Marcus D. Wallace
PS. Tell Cujo good job on this one and Deja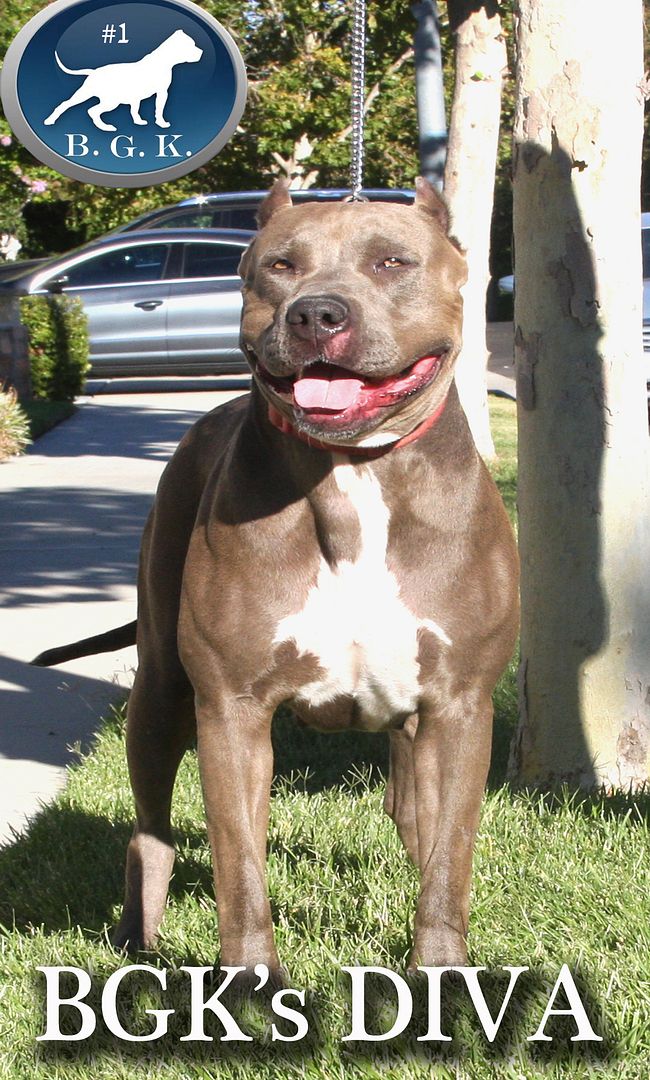 First and formost, i would like to thank Dre for being such an amazing mentor and friend over the years. I began my amazing search to find the perfect pitbull about 5 years ago, taking the time to figure out were i'd want to go as a dogman. I went from wesite to website, and breeder to breeder before Dre and i meet about three years ago. The information that he shared with me has helped me become so much more aware of what it takes to be a PITBULL breeder. During that time Dre sold me Diva. A wonderfull dog and, in my eyes, and one of the best put together female pitbulls i have ever seen. I recommend Big Gemini Kennels to anyone who's inerested in XXXL pitbulls. Dre's work ethic, professionalism and love for the breed is a one of a kind trait. I can't wait to do business with him again.
Once again, Thanks Big Homie!!!
Will
THIS IS A 115 lb Female!!!! BGK BLOOD DOESNT QUIT!!
Aloha!

When i decided to get a pitbull i did a bunch of research, and living on an island the biggest pitbulls were about 65 - 100 lbs. Well...that just wasn't big enough for me. I went online and came across BIG GEMINI KENNELS. I saw the picture of what i thought was a man holding up a bear cub. I soon found out that it was no bear...but the ROCK the biggest blue pitbull in the world. I thought it was some kind of camera trick but everyone else who has seen dre's site finds out really quick that this is no joke. I talked to dre and he answered any and all questions we had about his kennel, bloodlines of his dogs, and the shipping process. At that time the Rock and Deja breeding just dropped. When we saw our girl we just knew she was the one. She arrived on O'ahu at 3 months old. We couldn't believe that she was a puppy. She was huge! Her paws were bigger than my 5 year old sons hand. We were very happy, and to top it all off her temperament is beyond comparison. She is mellow and seems like she was born knowing how to act around babies and little children. She is our Foundation Female here at BIG LEAGUE KENNELS. We named her Hi'iaka...Hawaiian goddess of the ocean. At only 11 months now...shes 100+ lbs. and still growing. We know she will bring the Rocks legacy to the islands, and show Hawaii what real XXL Pitbulls look like. Mahalo Nui Loa (thank you very much) to dre @ BIG GEMINI KENNELS. You have given us way more than we could have asked for and we are so grateful! She has won mulitple shows in Hawaii for us at this point! The judges love her like we do! THANK U BGK

Sending our Aloha from O'ahu Hawai'i,

Alika & Ashley Pau'ole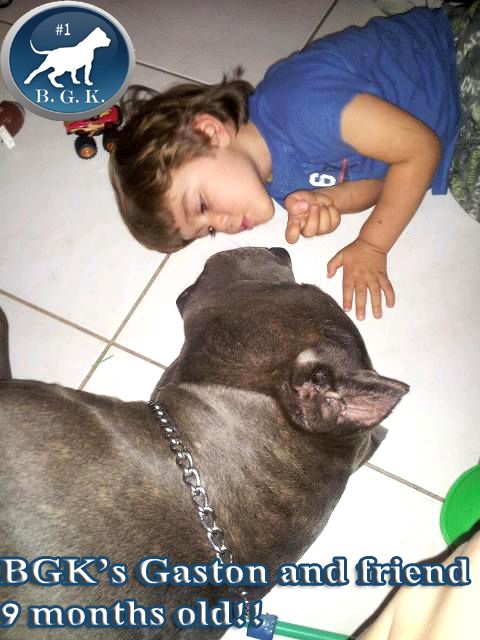 Gaston our pup from the rock at BGK kennels has turned in to our son. From getting him at just a tiny helpless baby to having him for over a year he has been protective beast when we aren't home. My husband originally got the dog for himself but he has become so fond of me and me children that he won't leave our side unless a wall is in between us. This dog has become not only our pet and watch dog but a huge part of our family that we love dearly. -Miranda & Bryan Velasquez
A big THANK YOU to Andre @ Big Gemini Kennels and his cousin Romero for this big, beefy pup from the Inmate & Jewelz litter. When I first saw "Tango" I couldn't believe how big he was; his chest, paws, and overall size were unbelievable! Andre really came through with his words when he said that the pups from this litter were HUGE!! I've been getting a lot of looks and great comments about how big his paws, muscles, and chest are. I am extremely happy with this ball of muscle. I'm especially enjoying the love I get from all the people that have seen him. He's definitely a head turner...just take a look!

Through numerous phone calls, text messages, and emails, Andre made this first-time experience pain- and worry-free. His passion in the breed really shows when he talks about his dogs and pups. Big thanks again to Andre. Gonna definitely rep this BGK production to the fullest!

Carlo
I have to say thanks to BGK for the best dog that I have ever owned in my life. My son has quickly became BGK's SLider's friend. I cant even play rough with my son when SLider is around because he is so protective. He was by far the largest puppy that I have ever seen in my life, and is going to be a definite MONSTER whenhe is done growing. The honesty, communication, and quality I recieved from Big Gemini Kennels was second to none, and if you are looking for a HUGE pitbull with an AWESOME temperament then you are at the right place my friends :)
Phillip Franklin
Washington
Testimonial ....
I would like to thank BGK for my amazing pup "BLUE". The day I picked her up I didn't know what to expect but I will say I am more than satisfied...Not only is she larger than most males in my area at 6 moths old, (she is a big girl), but she has a great personality and an amazing temperament .. The pup and my daughter bonded from day one they are like best friends..I honestly couldn't ask for a better addition to our family..I am very happy to say out of all the kennels we had look at in the past year im so glad we went with BGK...Thanks again for our amazing pup ...My daughter actually has rode her like a horse, lol.
, Ohio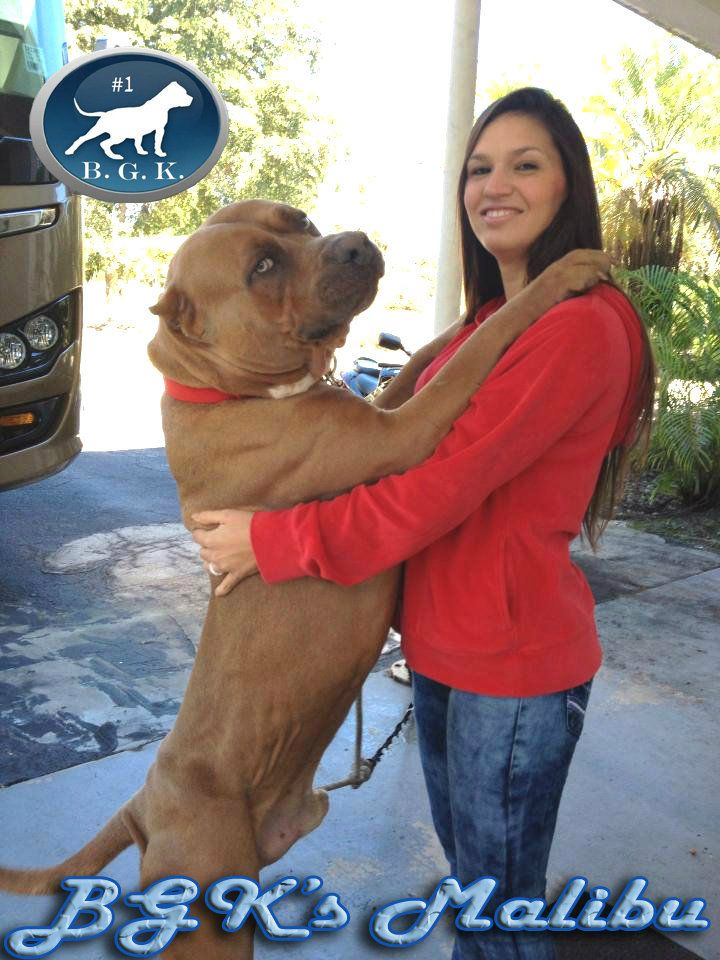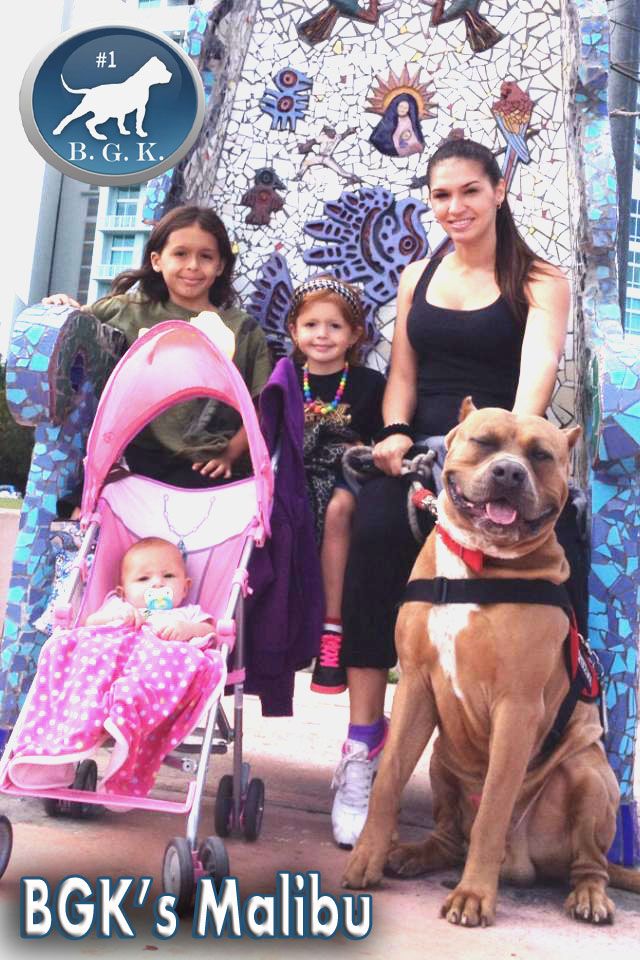 Here he is as a little pup.....
Big Gemini kennels.I'd like to thank u for the breeding of Viking n big sexy.we bought male #2,and he's been nothing but a pleasure to have and work with.this is my 5th pitbull puppy that I've owned. He just turned 71/2 months old n he weighs 82 lbs .he's very loving n caring towards my 7yr old son and 2 yr old daughter.hechas already shown great signs of proctecting the family ,when strangers come knocking on the door .he has a deep n furaceous bark.i especially would like to thank Romero,for going out of he's way to make us feel comfortable about making this purchase.would like to also thank Andre for quickly responding to all our questions n phone calls.WE will highly recommend Big Gemini Kennels to all our friends and family .


Thank u
Lisa & family :)
Florida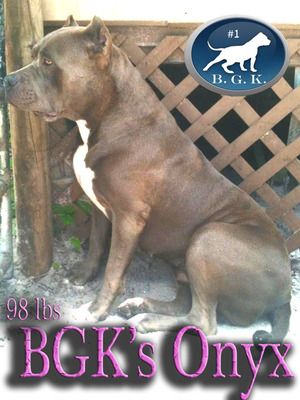 daughter of BGK's Cujp X BGK's Deja
I want to thank Dre from BIg Gemini Kennels for producing my female "Onyx" off of BGK'S Cujo & Deja breeding. I couldn't be happier with this big beautiful girl and that's a lot to say as for I don't get impressed very easily.... : ) I chose to buy from Dre after coming across his site in disbelief of how massive these amazing looking pit bulls were that he owned and produced, I pretty much knew I would be getting what i was paying for. Dre also was very helpful in giving advise which is an added bonus. Thanks again!

Crystal founder and owner of SouthEast Pits.
I was looking to buy a XXXL pitbull male, because out here in CANADA nobody has any XXXL pits, I knew the biggest pitbull on earth was the ROCK, but I didn't know who owned him, I looked at few websites I saw a few dogs that were off the ROCK, and rite there and the I knew I had to have a male off the ROCK, I found the web site for Gemini kennels, I called Andre, I told him that I was calling from Canada and that I needed a XXXL male out here, because there is nothing out here that can compare to his dogs, he told me he didn't have any pups available at the time, but he has a 3rd pick male out of the ROCK x JEWLZ and that he was 7 months old and 100lbs, I was afraid to ask how much he wanted for him, considering what his littermates went for, but Andre quoted me a very reasonable price, and even offered to pay for the shipping. After sending Andre the money he assured me that I was in good hands and that he knows how it feels to send someone a butt load of cash that you don't know and have never meet. A few days later he shipped BIG STALKER to me, and when I picked him up I couldn't believe it, he was actually 7months and 100lbs he was bigger then any adult male I had seen. So if there is anyone looking to buy a XXXL pup I would recommend BIG GEMINI KENNELS the owner of the biggest pitbull on earth, because Andre does not pump his dogs up to make them seem bigger then they are (they are what they are MONSTERS!!) I would recommend Big Gemini Kennels to anybody!!

Thank You B.G.K.,
Hermin Loona
Big thanks to my friend Dre of Gemini Kennels for letting me co-own Renegade who was the pick of the litter out of Jewelz and Escalade. Dre is a great person to do business with, he is a man of his word and delivers what he promises.

When we picked up Renegade from the airport he was everything I expected and more. He was huge, clean and had the tight greyline muscle definition. He fit right in will the other dogs without a problem. He is great with the family and a natural house dog. He has never has an accident in the house. All that being said his play drive is crazy I never seen a dog go so hard after balls and toys. He can run and play all day. He is a super athlete.

Thanks Dre for letting me co-own this special boy with you. His is a big part of High Power Pitbulls and I sure we will be doing much more business in the future.

Big Tom
High Power Pitbulls
Big Samson at 5 months, 69 lbs!!
Samson our big blue nose! We can't say how much we appreciate Dre for giving us the oppurtunity to own a xxl bluenose. I've never purchased a dog over the net before he made this experience easy and worry free. When Dre told me that the puppy was big I didn't think he was talking like panther style lol I love it! I would definitly recommend Big gemini kennels to anyone that is looking for a big beautiful dog. Ear cropping and tail docking is pretty much illegal in minnesota so I ask if he could crop them before he shipped him off and Dre had no problem doing that for us! Once again I would like to thank Dre and Big gemini for everything!! The dog was even larger and more handsome than we ever expected!! You cannot go wrong buying a huge handsome monster from B.G.K. THANKS AGAIN!!

Rob quach
When I started my search for a big clean XXL APBT I wanted to get huge blood but was unsure of the uncleanliness but I noticed what Dre at BGK was doing. He is taking some of the biggest blood out and making it cleaner with-out compromising the size of the dog. I am super excited with our female Mimi (Escalade x Jewels) and she will help us here at PTK in continuing the legacy of producing big clean dogs with great drive and Athleticism. Thank you Dre for giving us a piece of the puzzle in thid HUGE Clean female! I recommend anyone who is interested in XXL to consider BGK as one of the main sources!!!

Shannon
Pryme Tyme Kennels
I must have viewed over a million different websites trying to find the perfect pitbull. WHen I found Big Gemini Kennels, I knew that I had found the one. All of the dogs were huge and beautiful, and when I spoke to Andre on the phone, you can just tell that this guy really loves the dogs and knows them inside and out. He sent me several pictures of YAYO, and I was hooked. So I sent out the money that we agreed upon and two days later the most awesome looking BIG pitbull pup in the world was shipped to me. My girlfriend has fallen in love with this gorgeous puppy!! He has a great personality that is hard not to love, and is very intelligent as well! I found the perfect pitbull, he is loving, loyal, and fearless!

This is by far the most handsome animal I have ever owned. If you want a XTRA XTRA large gorgeous pitbull with a truely awesome personality....You have found the absolute best kennel there is. PERIOD!! THANX ANDRE!!!!! BGK is the sh@#!!

Anthony Jameson
True Blue Pits
BGK's Asanti, super producer
Big thanks to Dre of Big Gemini Kennels for producing my beautiful girl Asanti.
Asanti is off The Rock x BGK's Deja, she is also sister to Big Gemini! Before making
my decision to purchase an XL female I looked at many Kennels, but after seeing
The Rock in person and some of his productions I was sure that I wanted a Rock
daughter. Not only was I impressed with the dogs at BGK, but also the customer
service. Speaking with Dre I was confident that BGK stands behind their puppies,
which was a major plus.
Today Asanti is our foundation XL female here at Wild Life Kennels. She is not just
a dog, but also a member of my family. At 105lbs she can run circles around other
dogs all day. This girl has amazing temperament, athleticism, structure, drive, and is super loving. On top of that in Asanti's first litter with my boy Rambo she produced
Torreto, who at 6 months old is already 100+lbs! Looks like she is following in The
Rocks footsteps.
Thanks Dre
Robert Delgadillo
WildLifeKennels.com
BGK's XENA
When I decided to get a Pitbull I wanted to be able to walk her in the streets and have people completely forget what they were conversing about because they were too busy admiring my beast. I began my search for a good quality pit since I was stationed in New Orleans. It seemed an eternity searching day in and day out until I came across a television show called Real Housewives of Orange County. That was when I was introduced to one of the biggest male Pits I had ever seen named Disciple. I decided to check the website out and that was when I saw the biggest male being paired up with one of the biggest females I had ever seen, who happened to be Jewelz from BGK. I told myself I have to hop on this RIDICULOUS breeding and not let it pass me by because I may not get another opportunity like this again. This was where I met one of the coolest dudes/professionals named Dre. He could have easily just treated the whole situation as just another transaction but he took the time besides AMPing me up about how big my female would be, but providing as much information as he could to me about how to take care of her, what to feed her and different things I could do to keep her overall looking beautiful. She has been wonderful since day one, a handful at times but great overall. Tons of compliments! Dre warned me about her being a fireball but so far I have been able to keep her at bay. I'd like to say thank you Dre for giving me the opportunity to conduct business with you as well as providing me with so much information that even with the lack of experience that I had dealing with Pitbulls, you made it that much easier. You have been a huge help. If anyone wants a good quality pit with amazing structure B.G.K. is where you want to go PERIOD!!!!! I am coming back for round two my dude because Big Sexy and Stalefish will create MONSTERS from out of this planet. So BEWARE Inland Empire when you see a big @ss Male walking down the street all I am gonna say is B.G.K and continue on walking!

KRIS M. SOUTHERN CALIFORNIA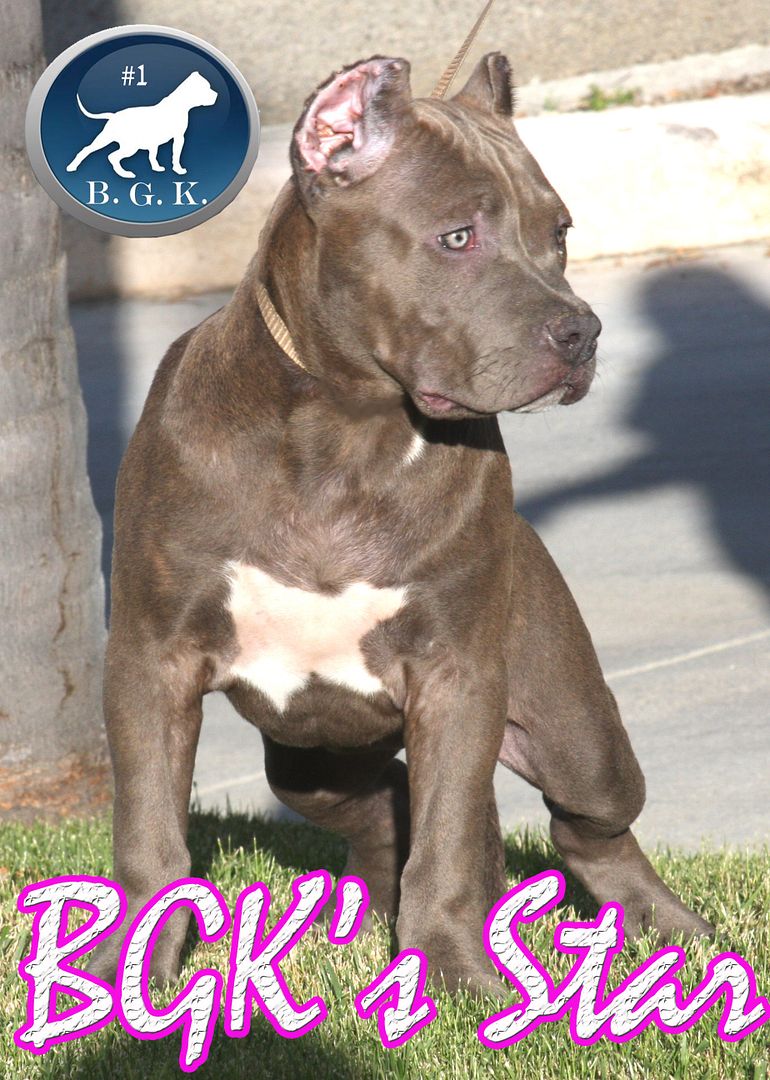 A special thanks goes out to Andre Smith and the team of BGK for making possible the birth of xxl pitbulls in South Africa. The whole deal went off as smooth as can be imaginable with Andre's experiance and know how. The pup I chose was off the famous Rock over Shady Lady.On a weekly basis Andre kept me well informed on the progress and well being of the pup.(Star)

When I received Star she was more that to what I had expected.Perfect in proportion with size,structure,girth,bite and temprement, Once again well done to BGK,the founder of xxl pitbulls in South Africa

Regards

Zubair Mohamed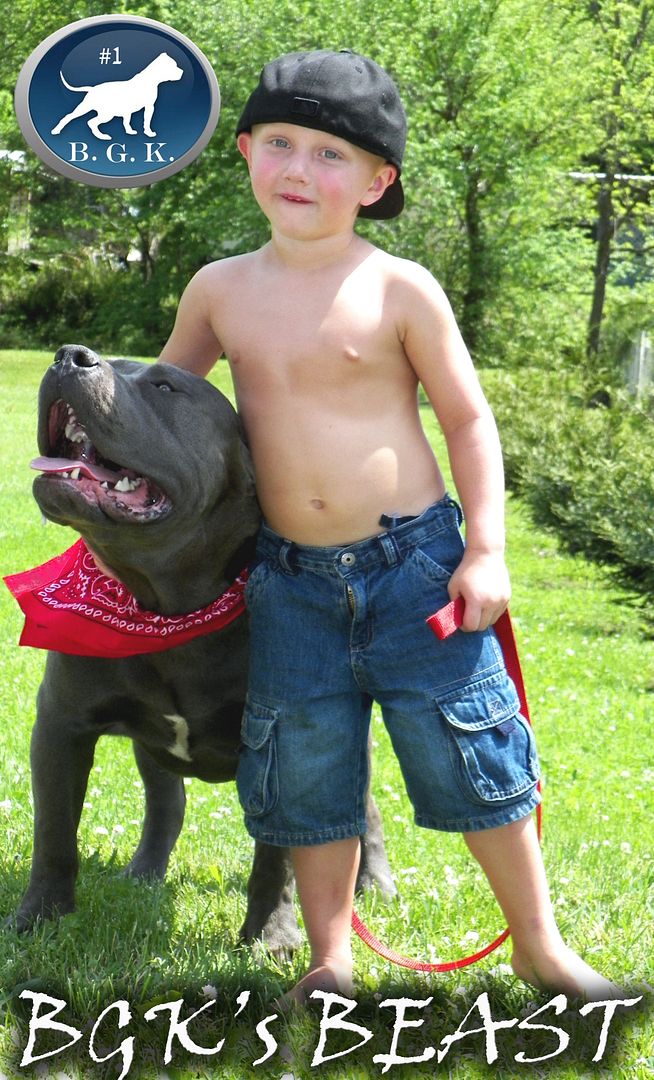 I'd like to take this opportunity to show our appreciation and respect to Andre and Big Gemini Kennels.


I am most likely one of the few people that has never bought a dog directly from Andre, but have a yard full of BGK dogs. With more on the way as we speak !!

My husband Lee and I were given the opportunity to Breed our female to be BGK's Tank (Cujo x Deja) owned by a kennel here on the east coast . I will never forget when I saw Tank in person for the first time. His size, structure and temperament were by far the best I had ever seen.

Prior to the birth of our litter, Andre called us to introduce himself and express his interest in the outcome of our litter and to contact him when they had arrived.

Shortly after our litter was born we were able to purchase BGK Beast (Rock x Karma) here at a kennel on the east coast. He was a VERY BIG puppy at 8 month old and we were thrilled to get him! Shortly after our purchase,
Andre called to congratulate us on our new additi
on. Our boy Beast is so sweet tempered and friendly! He gets better and better everyday. Basically he KICKS ASS !!
I am BEYOND happy with our first generation Rock son as well as our fourth generation pups!!
You can always tell a Rock offspring when you see them. They clearly show his consistency as a top of the line producer!
Andre is an awesome person. He cares about his dogs, their productions and their owners. He has given great advice for our breeding program,and always responds to my questions. Thats important to me and I appreciate the respect.
In becoming and owner of a BGK production you not only acquire an amazing animal but you enter into a family of great people that support each other and their outstanding productions.
I really enjoy all the "likes" I get from Hawaii, BGK Europe and all over the country. I love my BGK dogs and if you get me on the phone Ill talk about them all day, So be prepared !!
I have told Andre in conversation as well as a message written here and there how grateful we are and truly appreciate the years of hard work he has put in way before my time as a breeder to produce the quality dogs I now own.
His passion is obvious. The promotion of breed awareness in the Kids N Pits video put him on another level of professionalism. Top Shelf, in my eyes! I enjoy talking with him, no BS always real talk!
I hope to stay friends for many years to come!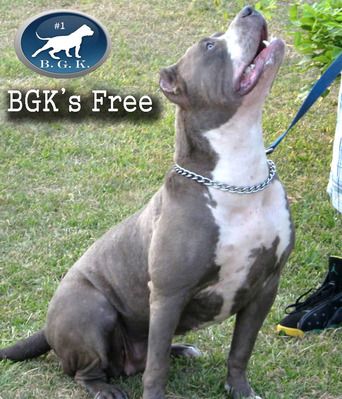 One of the largest atheletic females I have ever seen, and definitely the best female tht I have ever owned. The customer service was secodn to none, and I could not be happier. Its good to know that there are still people online that are legitemate!! Much love to BGK and the beasts they create!!!
Trez Chapman
Testimonial ....
Testimonial ....
Testimonial ....
Testimonial ....
Testimonial ....
Testimonial ....
Testimonial ....
Testimonial ....
Testimonial ....
Testimonial ....
Testimonial ....
Testimonial ....
Testimonial ....
Testimonial ....
Testimonial ....
Testimonial ....
Testimonial ....
Testimonial ....
Testimonial ....
Testimonial ....
Testimonial ....
Testimonial ....
Testimonial ....
Testimonial ....